Quick Ship Program
Over 2,000 products in stock and ready to ship!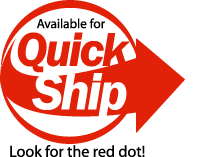 We carry a large inventory of our most popular items, ready to ship in just two days! Just look for the red diamond in our product catalog to see which products we carry in stock and ready to ship in 48 hours.
There is a maximum order quantity for products to be shipped in two days. For larger orders, please contact customer service for lead times at (866) 446-8686.